Women, but let's say people, marched again on the one year anniversary of the massive protest march last year. This time it was mostly about getting out and voting, equal rights and opportunity and despite all the current controversy regarding sexual harassment, the political agenda and voting took precedence. There is an immense pool of talent out there that simply must get louder, more visible in order to get recognized!
Some fun signs…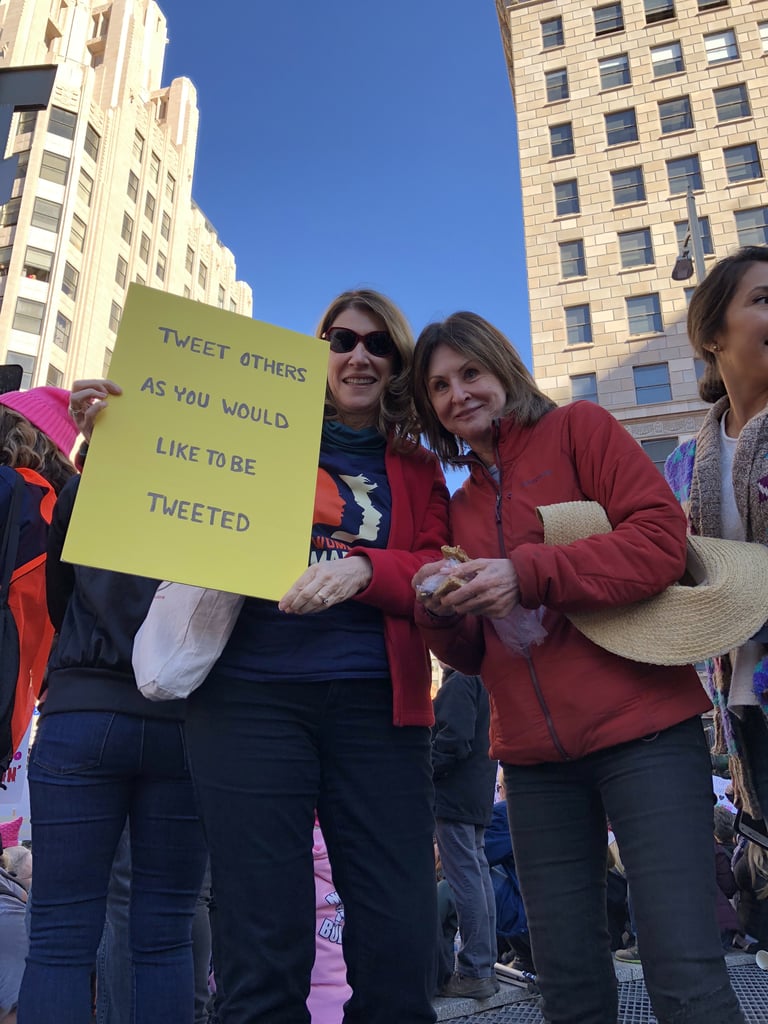 Marty and Judy, LA
Raven, SF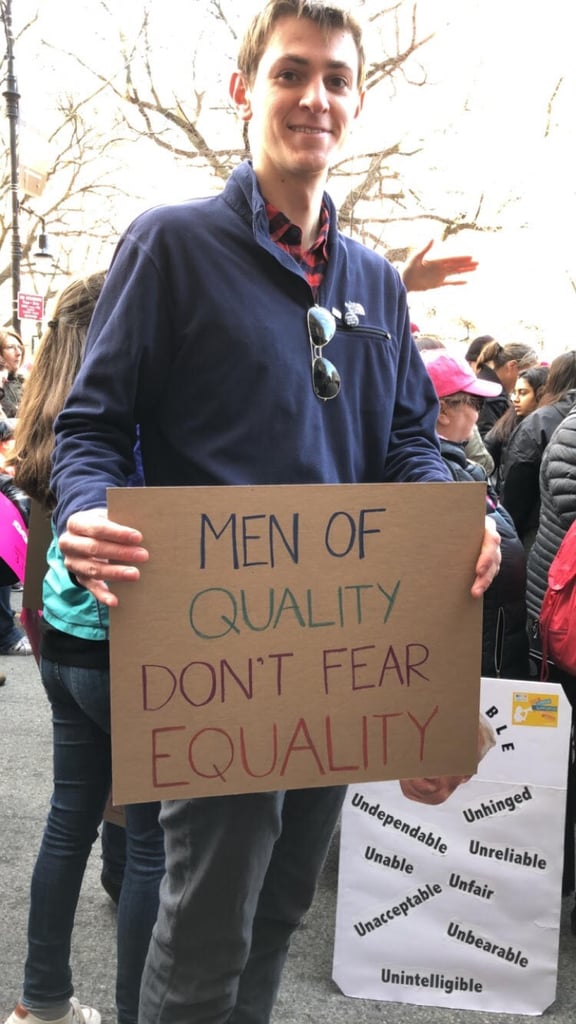 NYC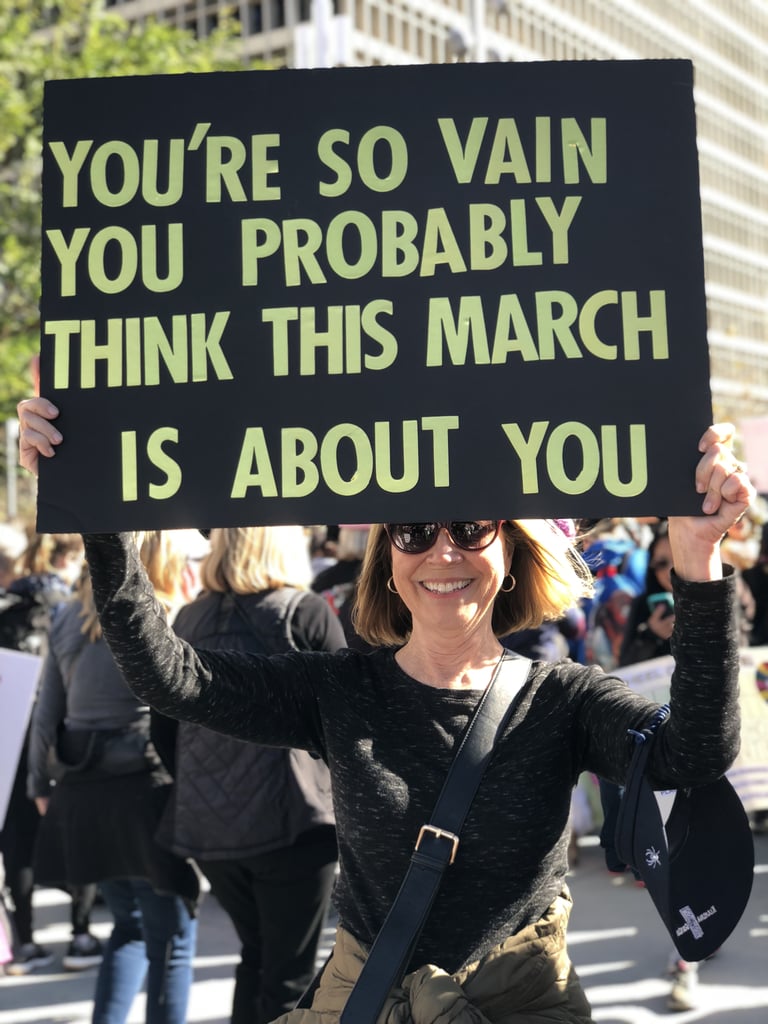 Cathy, LA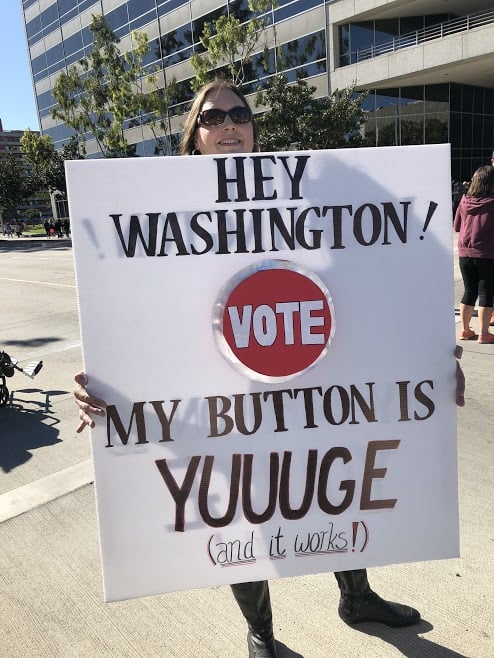 Della, Santa Ana, CA
Whatever it takes! Learning to negotiate with Dominatrix Training (!) (NY Times) — How ironic to use lessons from sexual antics of dominance and suppression to learn how to thwart sexual harassment offenses, but also in perfecting negotiating skills!
Some highlights from the NY Times article by ALICE HINES (the linked entire article above is really worth reading):
"The Academy was founded in 2014 by Ms. Urbaniak, a graduate of Bard College, and a creative partner, Ruben Flores, formerly of NYC Medics. The courses draw on BDSM, Taoist martial arts, Cesar Millan's books on dog training and the hostage and border checkpoint negotiations of international NGOs.
"Ms. Urbaniak, 39, worked as a dominatrix for 17 years, independently and in dungeons in New York City. Now, in something she calls the Academy, she teaches women what she has learned about men. In a moment of cultural reckoning around gender and harassment, the Academy is one of the new unconventional entities, including anonymous spreadsheets and Hollywood-run legal defense funds, emerging to fight harassment, discrimination and bias.
"So the point is not her leather riding crop. Her mission is to teach women how to employ a dominatrix's rhetorical tools in any scenario when there's a power imbalance with a man, whether or not it's about sex. The scenarios happen everywhere.

"She discovered, back when she began training dominatrixes, that the fix was this: Instead of answering or refusing to answer the question, ask the client a question back about why he asked the question in the first place. When he responds, dig in with more probing.
"Comebacks can be pointed or off-topic, sweet or biting. Testing the reaction they provoke is informative and fun. "He's on the spot, and you regain your footing," Ms. Urbaniak said.
"United States companies spend $15 to $40 per employee on sexual harassment training, according to Michael Johnson of the Clear Law Institute, which creates programs for human resources departments. Advanced Power With Men, the Academy's forthcoming weekend-long workshop, is sold out at $2,200 a spot. Another course, Foundations of Power, costs $8,500 for three in-person weekends and an online component.
"Harassment is the tip of the iceberg for long-term students, who look to Ms. Urbaniak for a wide range of things, including help with fixing marriages, reading body language and resetting careers.
"Dominant and submissive are, she said, rhetorical and energetic states, and can be unmoored from the social hierarchies that empower men. It's a post-gender outlook, with as much in common with theories of performativity as with women's empowerment programs like the Makers Conference and Lean In, which focus on elite communities as a way to tap female power."
(IAV) What an original example of applying an acquired expertise in taking the opportunity in helping build confidence and improving careers and people's lives!
Women and the Sundance Film Festival 2018! (Wired.com)
Women themes in films and behind film-making get a lot of attention this year at the Sundance Film Festival
"EVERY YEAR IMPORTANT movies come to the Sundance Film Festival. Documentaries about global warming, narrative features about the trials of incarceration, stories of marginalized communities—they're all screening from sunup to sundown. Yet this year's Sundance lineup might be its most crucial, and timely, yet. That's because at a time when less than 5 percent of the top-grossing movies in US theaters are directed by women, 37 percent of the Sundance lineup had women behind the camera. Not only that, many of their films—from documentaries about attorney Gloria Allred and Supreme Court Justice Ruth Bader Ginsburg to features about women coming to terms with past sexual experiences—reflect issues currently filling news and social media feeds. "We're proud of the diversity of this year's lineup," Sundance Institute executive director Keri Putnam said in a statement. "These stories might inspire or move us, even occasionally make us uncomfortable—but they can shift our perspectives, spark conversation, and create change.""
Quick Film Reviews: Sorry to Bother You, I Think We're Alone Now, The Miseducation of Cameron Post, The Tale, Seeing Allred,Inventing Tomorrow, Ophelia, Half the Picture, RBG, On Her Shoulder
Don't hesitate to share your ideas and comments!